Friday Friday Friday!!
How happy are you it is Friday?
We are a mere few hours from 5 o'clock...let the countdown begin.
After traveling, what seems like the past 45 weekends in a row, I am so happy to be home this weekend.
Cue time with friends, Saturday morning Starbucks dates, shopping, date nights, 65 degree days and just pure relaxation.
Please tell me you have seen Kelly and her adorable
outfits
(seriously her wardrobe is too cute for words), her adorable
little girl
and her fabulous blog.
Not to mention, she's going to school on top of managing all of that.
Super admirable!
Take it away, pretty!
____________________________________________________________________________
Hi Total Basset Case friends!
My name is Kelly, and I normally hide over at
Mrs in Training
, but Sarah is kindly letting me crash her space to introduce my two Bichon Frises, that would SO be Floyd's real life BFFs. You know, if he lived in DC.
My husband Tyler and I adopted Holly in 2004 and they only thing that happened quicker than me falling head over heels in love, was me becoming a crazy dog lady.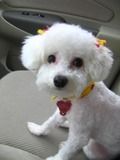 The next thing I knew, I was taking Christmas card pictures with her, had an entire wardrobe of clothes for her, and took her everywhere. It took us less than a year to decide that she needed a sister, and another year to find one, then we adopted Kimchi.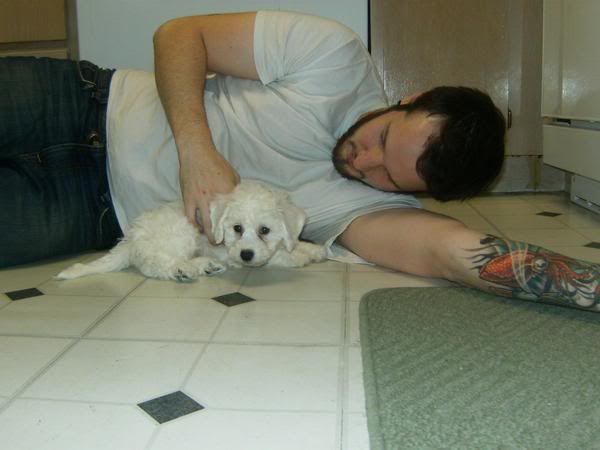 Operation "Crazy Dog Couple" was in full effect. If for some reason we were supposed to go somewhere the dogs couldn't go - we stayed home. We cooed and fawned over them like most people do their children. And now that we do have a child, we STILL probably act more nuts about the dogs! They have a standing place in all picture frames in our home, all vacations we go on, and every aspect of our lives. We pay more for their dog walker each month than we do for our cars.
Worth every penny
.
We even have professional photographs of the dogs.
Then, Holly got sick. One night we were getting ready for bed, and Holly began to scream. It sounded like a human scream, and she was vomiting blood. Tyler and I were in the car in less than a minute, and I was frantically googling directions to the emergency vet clinic while he ran every single red light, drove twice the speed limit, and went on the wrong side of the road at one point. Turns out, her intestines were collapsing on themselves. She had countless fluid therapies, surgery, dozens and dozens of hospital visits. We have easily spent over $30,000, maybe even $40,000 on all of her treatments and surgery...earning her the nickname
The Million Dollar Dog
. She depleted our savings in one weekend, and we didn't blink once handing over that debit card.
Every time she goes to the hospital, her collar goes on my wrist and stays there til she's home.
A dozen times she should have died. A dozen times she got better. And then it was time to pay it forward. We got involved with our local Bichon Frise dog rescue, and became a part of a team to rescue foster dogs. Some stayed for a few days. One stayed for 9 months. Our home was a revolving door of fluffy white adorable puppies, and tell me,
does life get any better than that?!
And yes, every foster has always slept in our bed with us. And I cry every single time one leaves us to get adopted.
Since our daughter was born, we've taken a break from fostering and now I handle the transports - getting dogs to the DC area, or from this area to their forever home. I worried about our relationship with the dogs once the baby got here, since SO many of our rescues were abandoned when a new baby came along. I had nothing to worry about. My kid and Kimchi? BFFs for life...since day 1. Doggie was her first word, and now that she's 1, when she wakes up in the morning she starts asking for Mommy...and Chi Chi.
And I'm happy to report that Holly and Kimchi are happier, better fed, and more thoroughly exercised than they've ever been before, and they love
every
second of it. I am a VERY proud mama of three. Also? I'm happy to report that its been almost FOUR months since Holly's last hospitalization, which is a record for us, so prayers and karma really do work.
Sarah, thank you SO much for letting us stop by. Floyd's girlfriends say there's room in their giant dog bed any time he wants to come visit ;)
_______________________________________________________________________________
Oh my goodness, Floyd would be ecstatic to have a sleepover with your girls, Kelly!
I give you mad props for living through all of that doggie drama.
Us doggie mamas are a crazy breed but I know any of us will do ANYthing for our babies!
Thank goodness Holly is doing so well!
We pray she continues to be so healthy!
Also, does your dog walker know anyone in Cincinnati because I think Floyd would really like one.
P.s. how cute is her baby girl?!
I die.
Hope everyone has a fabulous weekend, friends!!